A memory composed by Bill Meidell on October 29, 1979
Last night, as I sat in the stands and listened to the cheers of encouragement and the cries of anguish as the corps was soundly defeated by the opposition, I was taken back to the commencement of this year. I was sitting in nearly the exact place in the grandstand on Perkins Field, one of the speakers mentioned they felt the outer walls of Vail and Griswold Halls refused to fall until they heard taps one more time. I looked again just to see that mighty building again. An eerie feeling swept over me. I guess for the first time, I chose to believe she was really gone.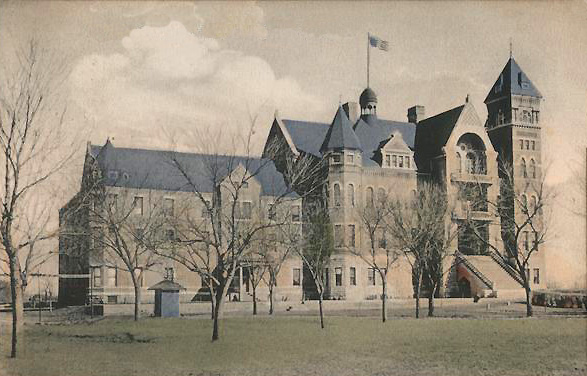 The punishment and abuse she had withstood over the years died with her. Many attempts had been made to fell her, but she resisted. She saved so many within her walls why could not someone have saved her? Oh, the stories she could tell, the secrets she held. The memories, hopes, and dreams of all those fortunate enough to have been a part of her were all gone. She would never again hear the scurry of feet going to classes, the clatter of typewriters, the joyous sound of laughter ringing through the halls, the sound of music from some cadet's room playing his favorite record. And not the least of which, a homesick boy crying in the night trying desperately to be a man. She fought two world wars, two military actions, depression, recession, and yes, even an anti-military movement. She stood proud and tall against the Kansas sky, against all odds, but in November 1978, fate chose to take her from us. She will, however, live on these grounds, if only in spirit.
My hope is the very soul of her existence will be absorbed by this new building, to carry on the traditions and expectations of the faculty, parents, alums, and future cadets of this great institution we all love.
May these new walls be as strong and powerful as the ones we knew before. May they mold the young men of the future as Vail and Griswold Halls did for us in the past.
SJMS FOREVER – FOREVER ST. JOHN'S. — Bill Meidell 1954