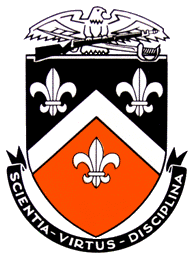 During its 131-year history, the school provided middle and high school students with a quality education but, more importantly, an environment that promoted a high sense of ethics, morality, and respect for others. The administration and staff were devoted to the personal development of young men and promoted personal interaction with members of the Cadet Corp. In short, the administration, staff, and Cadets were like a "Family" where mutual respect was felt throughout the campus.
As a result, staff members and the many young men who attended the school felt that their time at St. John's was an extremely important part of their lives and the Museum is simply one way of preserving their cherished memories of SJMS.
The major monuments, Muleskinner, Veterans Monument, Guernsey/Loy Monument, 30 ft flagpole, and Freedom Tree have all been placed in anticipation of paving a scale cobblestone path representing the Teardrop. Now, we seek assistance in completing the Museum and continue to develop our capability to fulfill the functions for which it was created. Your help and support will be greatly appreciated by so many and will help to preserve the history of an extremely important institution. On the following page, you will see exactly how you can help build/maintain the Memorial Teardrop Park. Choose an item you would like to donate or join with your classmates/friends to choose a project you fund together. Appropriate recognition will be given either individually or group-wise.
To complete the Teardrop Memorial Park project as planned, we have estimated a need for pledges of $93.000. All contributions are appreciated and those contributions that are not specifically allocated to a project will be applied to the cost of the cobblestone path.
Your directed or unspecified donation or contribution is now critical to the completion of the project. Should you have any questions, please contact Old Boy, Kent Tretheway, Museum Curator, at 785.404.2333. Rest assured we will be good stewards of your donation.
Your contribution is tax-deductible! Please join us in our endeavor.
.
Respectfully,
D. Dale Browning "1955"
---
UPDATE 4/1/2022 – We are nearly to our goal and we are looking for ongoing maintenance donations at this time. Thank you!
Tear Drop Park On-Going Maintenance Fund
Once the park is completed, keeping it up will take operating funds. This campaign will specifically go to this purpose. .
---
---
To Donate by check/money order, please send your payment to:
St. John's Military School Historical Museum
PO BOX 3464
Salina, KS 67402-3464
Company Matching
As part of your checkout for your donation, you'll be asked to provide your company name to find out information on their donor match program. Some companies match up to 100% of donations up to a certain percentage essentially doubling your donation. If your company isn't listed, it doesn't mean that they don't match, it just means that they haven't submitted information to the national database. Check with your Company's Human Resources Department to see if your donation can be taken even further.
We've included a search below if you'd like to see if your company is listed. PLEASE NOTE, we do not contact your company and only provide you with the information. It is up to you, the Donor to request a company matching "gift". In most cases, it only takes a few more minutes of your time, and it is money they are willing to give to our cause if you initiate it.