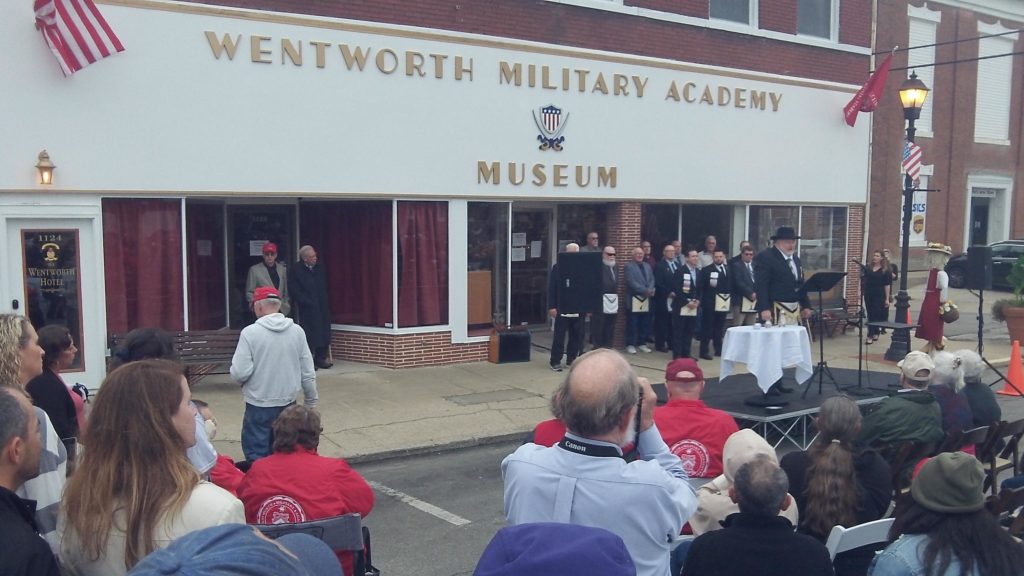 On 6 February, 2020, at the invitation of George J. Hittner , Chairman, Mike Wagner, Kent Tretheway and Roy Lawrence visited the Wentworth Military Academy (WMA) Museum. We were greeted by Sue Webster, Curator.
When the school closed, all assets became property of a bank. As the result, all historical artifacts and memorabilia had to be purchased or negotiated for. The Alumni Association purchased a building in Lexington to house the museum. To read more about WMA Museum, please go to WMAMuseum.org.
We were greeted by Sue Webster, Curator. The building was previously used as a mercantile. Original wood floors and decorative tin ceilings add character and compliments the historical displays. While touring the variety of display areas, we discussed their philosophy and issues with how to faithfully display the WMA history.
They were fortunate to secure many of the very nice display cases from the original campus buildings and have them adapted and installed in the building they now occupy.
Sue staffs the museum 4 days a week and they have frequent work weekends where usually up to 20 volunteers report to assist in working on inside and outside projects. This is possible because of the WMA system of having up to half of cadets being "Townies" or living at home in the local area and having 500 to 600 students at the height of enrollment.
As with us, their initial focus was to have a display appropriate for their first homecoming gathering a year after the closure. Efforts continue to populate and refine displays and properly archive and preserve documents and artifacts.
Also, similar to us, they have an abundance of trophies, plaques, yearbooks and QM items that present challenges to display or manage.
With the expectation of having reciprocal small displays and continued sharing of ideas and support, we left them with the following : 100 Year History Book, Pennant, Final Skirmisher, 2019 Yearbook, graphic overview of the campus, 125 and 131 year coins and belt buckle.
Respectfully submitted by Kent Tretheway